Exciting news for teen fashionistas!
The
Outlet Shops of Grand River
is pleased to announce its partnership with Teen
Vogue for the biggest Back to School event in Alabama.
Teen Vogue
has declared August 11, 2012 the day to do all of your back-to-school shopping.
Back-to-School Saturdays (BTSS)
will be held at the Outlet Shops of Grand River in Leeds, just minutes from Birmingham on August 11th and August 18th
from 11am until 5pm. On August 11th and 18th, BTSS will offer non-stop excitement including music from a live DJ as you watch some high-energy fashion shows throughout the day.
Then, get a professional makeover to help you find that new look like Hollywood's finest just in time for the new school year. In addition, there will be fun promotions, free giveaways and super savings at all your favorite stores, including opportunities throughout the day to "text to win" for a chance at some great prizes.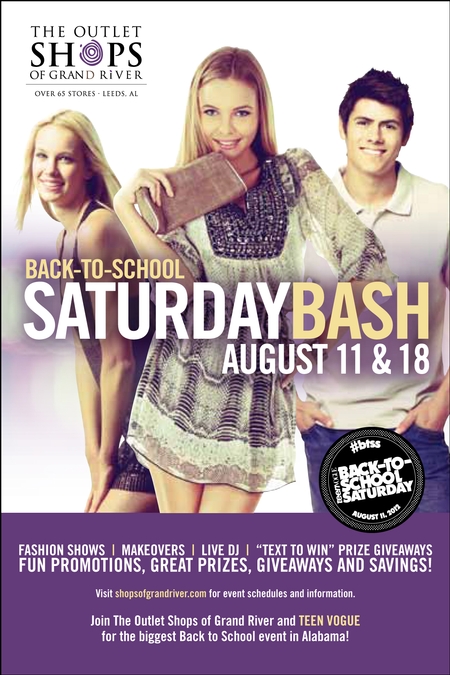 Be sure to follow us on
Facebook
and
Twitter
@ShopGrandRiver, as these resources will be in full swingas the best place to stay informed on all the excitement and the best deals in town on the latest fashions.
"We are thrilled to partner with Teen Vogue on August 11th for Teen Vogue Back-To-School Saturday and bring the biggest back to school bash to Alabama for two days of fashion, fun and giveaways," states Jamie Robinson, Marketing Director at The Outlet Shops of Grand River.